Post by Spamus on Mar 31, 2011 14:22:35 GMT -5
Had a thread like this on another forum I go to, figured why not try it here. Basically title says it all, what are everyone's top 10 games from a personal preference position pertaining to predispositions to play them? (Alliteration is fun)
Hard Mode: No blanket series titles. Pick one from the series.
Since I made this thread, I'll go first:
10: Blazblue: Continuum Shift
One of the only fighting games to really suck me in. I loved the cast, even despite their generic tendencies (maybe partially because of them) and the story actually interested me.
9. Dead Space
An excellently done atmosphere and gameplay that had some fun to use weapons and plenty of flying body parts make for a good third person shooter in my books. The game did rely on jump scares a lot, but the first time through you will be properly paranoid at least a few times.
8. Golden Sun: Dark Dawn
Take everything that made the first 2 great classic RPGs and improve it by giving the cast actual personality. My only gripe is that it was far too easy.
7. Persona 4
One of the most relatable and likable casts in a long time and an entertaining slice of life/surreal murder mystery makes for a rather enjoyable game. The voice acting was excellent and the character interaction really shined. Hopefully in the future they'll do away with the tedious dungeons.
6. Fire Emblem: Path of Radiance
The only thing keeping it's sequel, Radiant Dawn from winning here was the lack of unique supports and weaker pacing. Path is an excellent strategy game and it and it's sequel have possibly some of my favorite character designs ever. Plus pretty awesome cover.
5. Tales of the Abyss
I'm probably one of the few who think this, but Abyss was easily my favorite in the series. I thoroughly enjoy the plot despite it's poor pacing, and consider the cast some of the better developed characters in the series.
4. Wild Arms 3
Another one that beats out it's later entry into the series by merit of a better plot. Wild Arms 3 had a likable cast, a strangely attractive visual style, and guns. Probably the only way to make it better in my book would be a graphical upgrade to something like WA5 and a better fleshing out of the final act.
3. Shadow Hearts: Covenant
What if World War I era history was AWESOME? A snarky, sarcastic protagonist, a german fencer, a crazy puppeteer, a dog, an ambiguously gay wrestler superhero vampire, a fortune telling dancer, and Anastasia Romanov equates to a very interesting party. The aesthetic is beautifully surreal and enemies are genuinely odd. Plus, you get to fight Rasputin. I will forever beat myself up for passing up on this game the first time because I thought a real world setting would be boring.
2. Ys Seven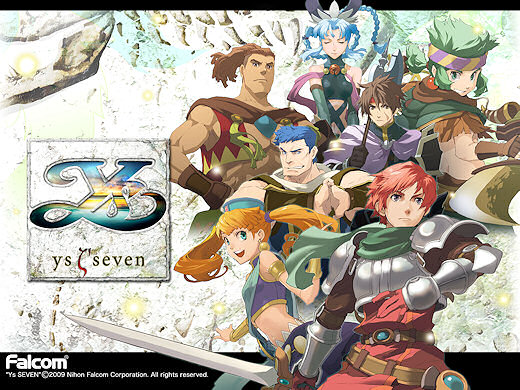 This game hits on every single thing I ask of an action RPG. Plenty of monster slaying, an oddly endearing story (unless you're a one of those people who think cliche=bad) that managed to surprise at least a handful of people, and some excellent character designs. The bosses however are the stars here. Ever single on of them is memorable in some way and none of them are boring. The game may be the easiest in the series but that's not to say it can't provide a challenge. The music is also god tier; I've listened to the soundtrack countless times. My only complaints are that Adol doesn't really need to be silent anymore and that the game did not have voice acted scenes.
1. Metroid Prime
I doubt anything will usurp this games position for a long while. The depth of interaction with the game world and the amount of detail and loving care put into it's creation truly stand out. Even by today's standards the game is a marvel. The world feels truly alive and the put-it-together-yourself story is really quite interesting. The small details like raindrops hitting your visor or the birds you can blast into clouds of feathers make Tallon IV stand out. I could go on gushing about the details, such as unique effects on your arm cannon when charging each weapon, to the things you can see with the X-ray visor, for hours. The boss fights, while not exceedingly common, are all unique and entertaining; between a giant radiactive rock monster and the cyborg version of Ridley, each on has it's selling points. The game was also a graphical feat at the time, and holds up quite well next to even current generation titles. If you own the means to play this game, be it the original or the Trilogy (best rerelease box set ever) I highly recommend you do so.